新聞稿: 保健行業領袖榮獲亞太顧客服務協會頒發「優質客服專員中心證書」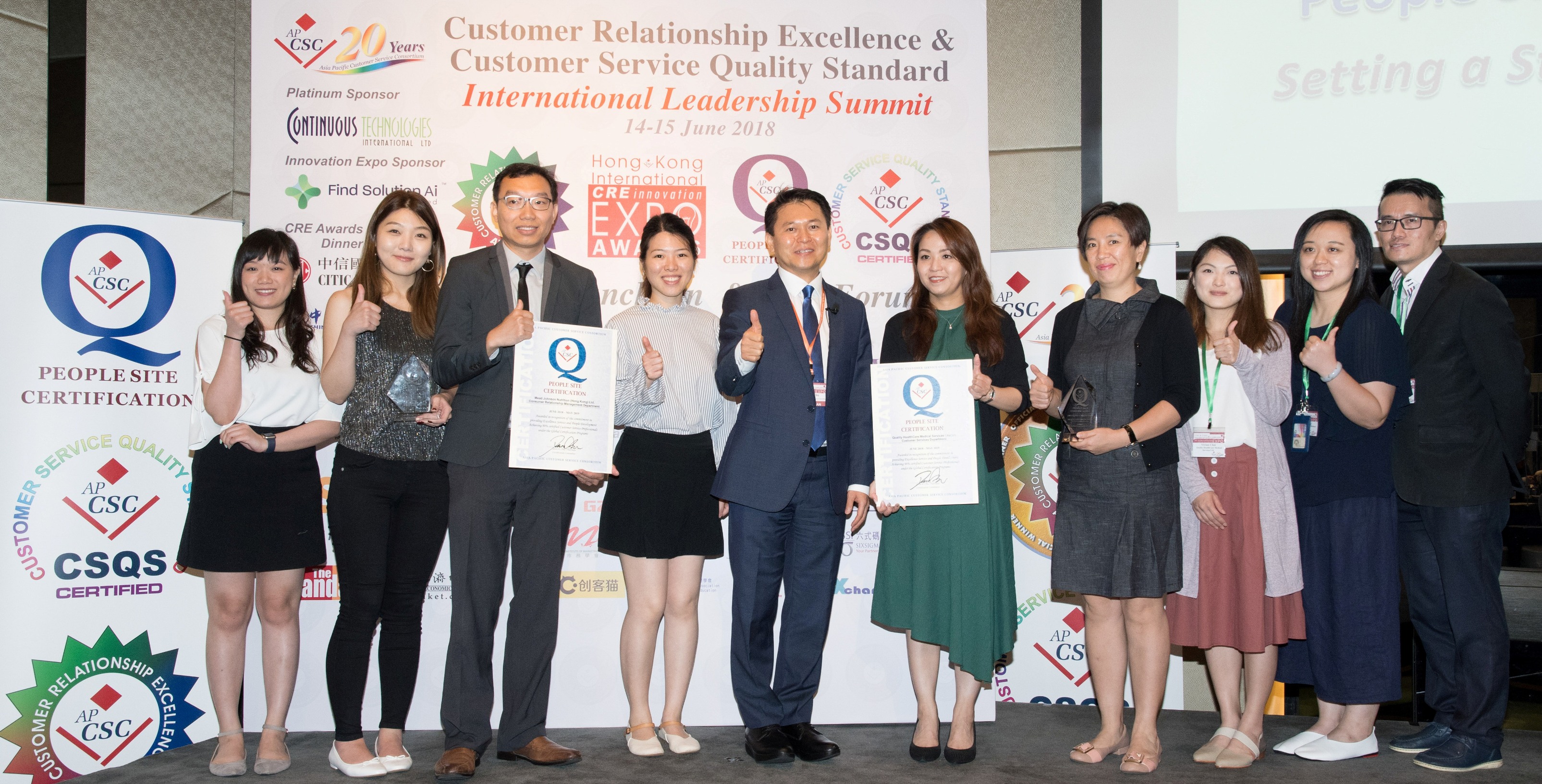 美贊臣及卓健醫療代表接受亞太顧客服務協會主席朱剛岑頒發的優質客服專員中心證書

中國 - 香港,2018年6月14日 –服務業領袖榮獲亞太顧客服務協會頒發的「優質客服專員中心證書」,藉此表揚他們的員工發展計劃和堅持提供世界級服務於香港及亞太區內顧客服務貢獻。
獲獎企業如下︰
美贊臣營養品(香港) 有限公司(美贊臣)

卓健醫療服務有限公司(卓健)
新聞稿: 市場領袖榮獲亞太顧客服務協會頒發「優質客服專員中心證書」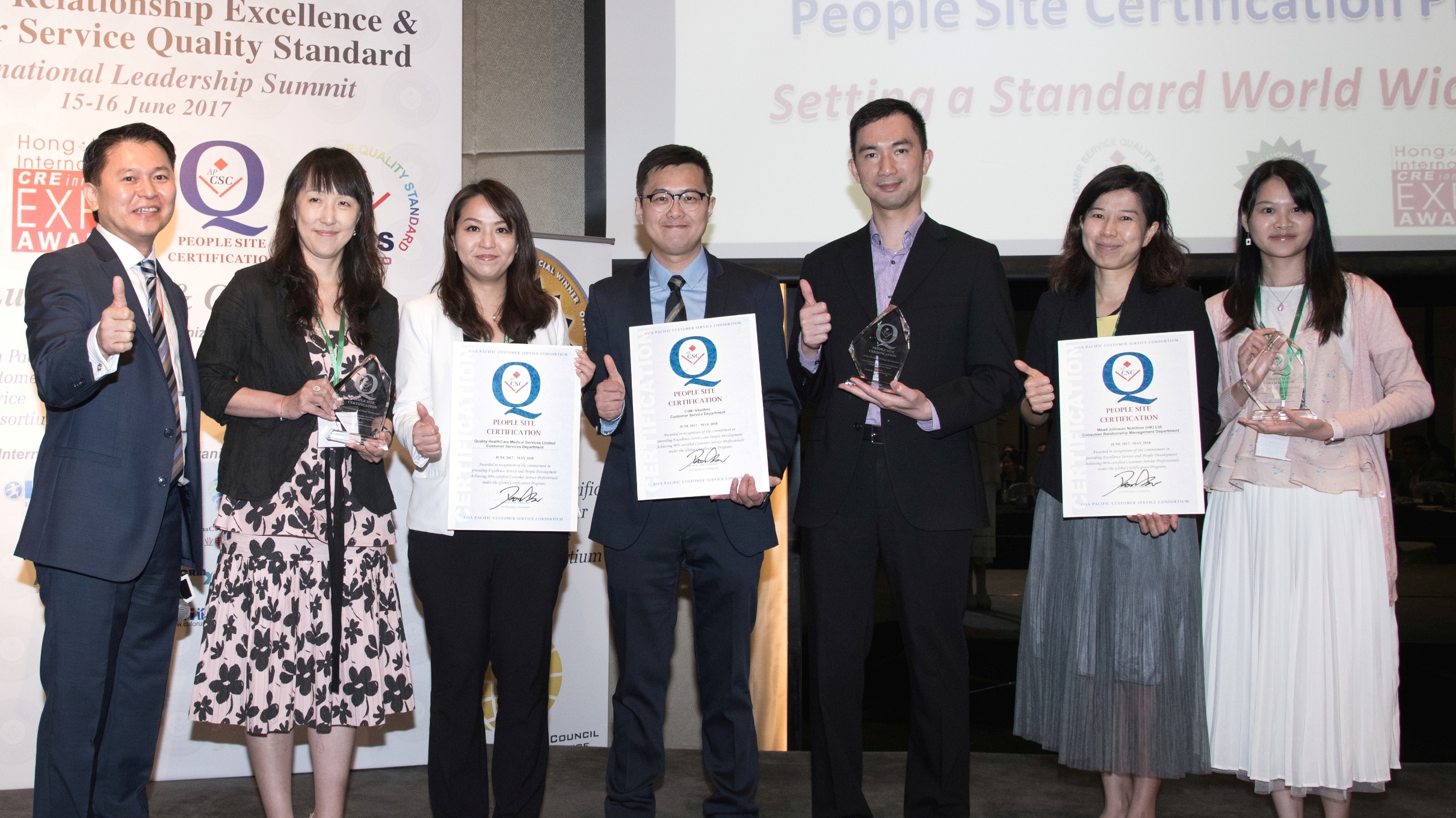 尚健維佳、美贊臣及卓健醫療代表接受亞太顧客服務協會主席朱剛岑頒發的優質客服專員中心證書

中國 - 香港,2017年6月15日 - 服務業領袖榮獲亞太顧客服務協會頒發的「優質客服專員中心證書」,藉此表揚他們的員工發展計劃和堅持提供世界級服務於香港、亞太區內及全球顧客服務貢獻。
獲獎企業如下︰
尚健維佳

美贊臣營養品(香港) 有限公司(美贊臣)

卓健醫療服務有限公司(卓健)
新聞稿: 市場領袖榮獲亞太顧客服務協會頒發「優質客服專員中心證書」

卓健醫療,及美贊臣代表 ,接受亞太客戶服務協會主席朱剛岑頒發的優質客服專員中心證書

中國 - 香港,2016年6月2日 - 服務業領袖榮獲亞太顧客服務協會頒發的「優質客服專員中心證書」,藉此表揚他們的員工發展計劃和堅持提供世界級服務於香港、亞太區內及全球顧客服務貢獻。
獲獎企業如下︰
美贊臣營養品(香港) 有限公司(美贊臣)

卓健醫療服務有限公司(卓健)
新聞稿: 市場領袖榮獲亞太顧客服務協會頒發「優質客服專員中心證書」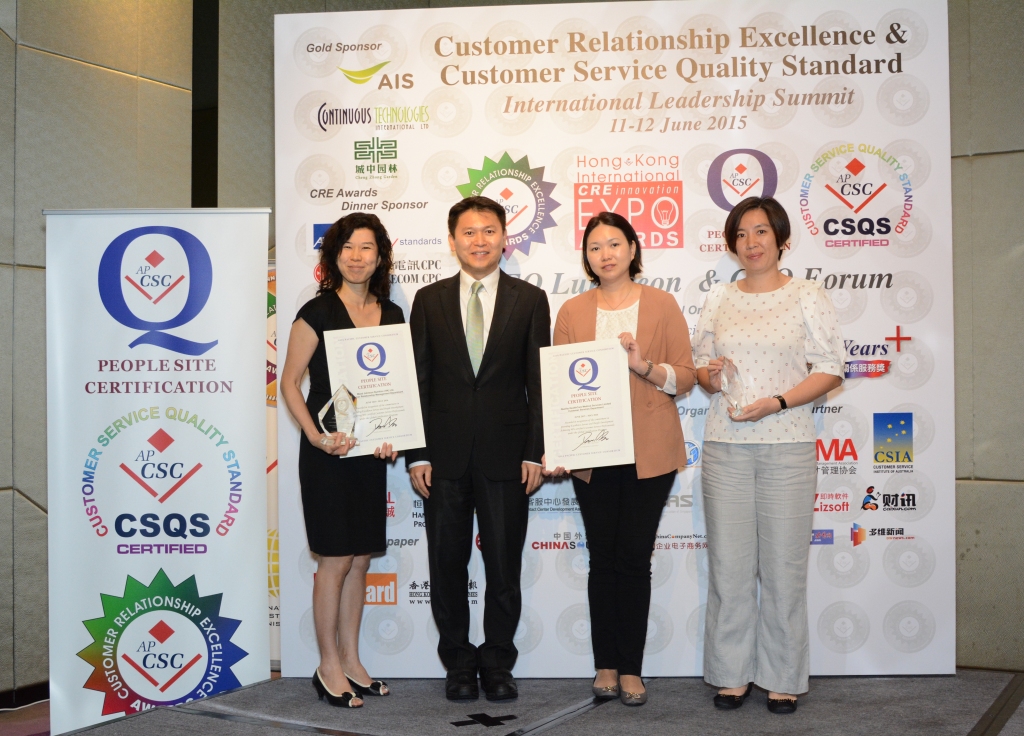 卓健醫療,及美贊臣代表 ,接受亞太客戶服務協會主席朱剛岑頒發的優質客服專員中心證書

中國 - 香港,2015 年6月2日 - 服務業領袖榮獲亞太顧客服務協會頒發的「優質客服專員中心證書」,藉此表揚他們的員工發展計劃和堅持提供世界級服務於香港、亞太區內及全球顧客服務貢獻。
獲獎企業如下︰
美贊臣營養品(香港) 有限公司(美贊臣)

卓健醫療服務有限公司(卓健)
新聞稿: 市場領袖榮獲亞太顧客服務協會頒發「優質客服專員中心證書」

中國電信國際有限公司、美國寶石研究院、卓健醫療,及美贊臣代表 ,接受亞太客戶服務協會主席朱剛岑頒發的
優質客服專員中心證書

中國 - 香港,2014 年6月2日 - 四大服務業領袖榮獲亞太顧客服務協會頒發的「優質客服專員中心證書」,藉此表揚他們的員工發展計劃和堅持提供世界級服務於香港、亞太區內及全球顧客服務貢獻。
獲獎企業如下︰
美贊臣營養品(香港) 有限公司(美贊臣)

卓健醫療服務有限公司(卓健)

中國電信國際有限公司 (中國電信)

美國寶石研究院 (GIA)
新聞稿: 市場領袖榮獲亞太顧客服務協會頒發「優質客服專員中心證書」

International Herald Tribune、美國寶石研究院、卓健醫療、Nexuguard,及美贊臣代表 ,接受亞太客戶服務協會主席朱剛岑頒發的
優質客服專員中心證書

中國,香港 - 2013年6月13日 - 五大服務業領袖榮獲亞太顧客服務協會頒發的「優質客服專員中心證書」,藉此表揚他們的員工發展計劃和堅持提供世界級服務於香港、亞太區內及全球顧客服務貢獻。

獲獎企業如下︰

美國寶石研究院 (香港) (GIA)

International Herald Tribune (IHT)

Nexusguard Ltd. (Nexusguard)

美贊臣營養品(香港) 有限公司(美贊臣)

卓健醫療有限公司(卓健)

Press Release: THREE SERVICE LEADERS AWARDED WITH PEOPLE SITE CERTIFICATION FROM APCSC

Delegates from International Herald Tribune , received People Site Certification from Mr. Jason Chu, Chairman of APCSC


中國 - 香港,2012 年6月13日 - 三大服務業領袖榮獲亞太顧客服務協會頒發的「優質客服專員中心證書」,藉此表揚他們的員工發展計劃和堅持提供世界級服務於香港、亞太區內及全球顧客服務貢獻。

獲獎企業如下︰

· 美贊臣營養品(香港) 有限公司(美贊臣)

Press Release: THREE SERVICE LEADERS AWARDED WITH PEOPLE SITE CERTIFICATION FROM APCSC

Ms. Venus Wong, CRM Manager from Mead Johnson Nutrition (Hong Kong) Ltd., received PSC from Mr. Jason Chu, Chairman of APCSC

Hong Kong, China, 8 June 2011 – Three leading companies have been awarded the People Site Certification (PSC) from Asia Pacific Customer Service Consortium (APCSC), in recognition of their people development and commitment in providing world-class professional services covering Hong Kong, Asia Pacific and Global markets.

· Mead Johnson Nutrition (Hong Kong) Ltd.

· Quality HealthCare Medical Services Ltd.

· Fidelity International

Press Release:TWO SERVICE LEADERS AWARDED WITH PEOPLE SITE CERTIFICATION FROM APCSC



Ms. Venus Wong, CRM Manager from Mead Johnson Nutrition (Hong Kong) Ltd., received PSC from Mr. Jason Chu, Chairman of APCSC

Hong Kong, China, 1 June 2010 – Two leading companies have been awarded the People Site Certification (PSC) from Asia Pacific Customer Service Consortium (APCSC), in recognition of their people development and commitment in providing world-class professional services covering Hong Kong, Asia Pacific and Global markets.

· Mead Johnson Nutrition (Hong Kong) Ltd.(Mead Johnson)

· Quality HealthCare Medical Services Ltd.(QHMS)

Press Release:THREE SERVICE LEADERS AWARDED WITH PEOPLE SITE CERTIFICATION FROM APCSC



Ms. Esther Tsang, Head of Customer Service from Quality HealthCare Medical Services Ltd., received PSC from Mr. Jason Chu, Chairman of APCSC

Hong Kong, China, 25 June 2009 – Three leading companies have been awarded the People Site Certification (PSC) from Asia Pacific Customer Service Consortium (APCSC), in recognition of their people development and commitment in providing world-class professional services covering Hong Kong, Asia Pacific and Global markets.

Press Release:THREE SERVICE LEADERS AWARDED WITH PEOPLE SITE CERTIFICATION FROM APCSC



Dr. Lincoln Chee, CEO of QHMS and Ms. Esther Tsang, Head of Customer Service, received PSC from Mr. Jason Chu, Chairman of APCSC

Hong Kong, China, 26 June 2008 – Three leading companies have been awarded the People Site Certification (PSC) from Asia Pacific Customer Service Consortium (APCSC), in recognition of their people development and commitment in providing world-class professional services covering Hong Kong, Asia Pacific and Global markets.

Press Release: DAO HENG INSURANCE RECEIVES PEOPLE SITE CERTIFICATION AWARD FROM APCSC

Ms. Shirley W.S. Wong, Manager of Personal Insurance Marketing, representing DHI, received the People Site Certificate

Hong Kong, China, 26 June 2008 – Dao Heng Insurance Co., Ltd. has been awarded the People Site Certification from APCSC (Asia Pacific Customer Service Consortium), in recognition of Dao Heng Insurance's ongoing commitment in providing innovative and world-class service and elevating customer service quality in Hong Kong.

Press Release:FIVE SERVICE LEADERS AWARDED WITH PEOPLE SITE CERTIFICATION FROM APCSC

| | |
| --- | --- |
| | Hong Kong, China, 11 July 2006 – Five leading companies have been awarded the People Site Certification (PSC) from APCSC (Asia Pacific Customer Service Consortium), in recognition of their people development and commitment in providing world-class professional services covering Hong Kong, Asia Pacific and Global markets. |
Press Release: BAX GLOBAL RECEIVES PEOPLE SITE CERTIFICATION AWARD FROM APCSC
| | |
| --- | --- |
| Ms. Margie Wong, Marketing Manager of BAX Global Limited accepts the People Site Certificate | Hong Kong, China, 11 July 2006 – BAX Global Limited has been awarded the People Site Certification from APCSC (Asia Pacific Customer Service Consortium), in recognition of Bax Global's ongoing commitment in providing innovative and world-class service and elevating customer service quality in Hong Kong. |
Press Release: DAO HENG INSURANCE RECEIVES PEOPLE SITE CERTIFICATION AWARD FROM APCSC
| | |
| --- | --- |
| Ms. Macy Lim, Senior Manager Personal Insurance of DHI accepts the People Site Certificate | Hong Kong, China, 11 July 2006 – Dao Heng Insurance Co., Ltd. has been awarded the People Site Certification from APCSC (Asia Pacific Customer Service Consortium), in recognition of Dao Heng Insurance's ongoing commitment in providing innovative and world-class service and elevating customer service quality in Hong Kong. |
Press Release: DHL GLOBAL FORWARDING RECEIVES PEOPLE SITE CERTIFICATION AWARD FROM APCSC
| | |
| --- | --- |
| Mr. C.T. Kwok, Head of Customer Service of DHL Global Forwarding accepts the People Site Certificate | Hong Kong, China, 11 July 2006 – DHL Global Forwarding has been awarded the People Site Certification from APCSC (Asia Pacific Customer Service Consortium), in recognition of DHL Global Forwarding's ongoing commitment in providing innovative and world-class service and elevating customer service quality in Hong Kong. |
Press Release: QUALITY HEALTHCARE RECEIVES PEOPLE SITE CERTIFICATION AWARD FROM APCSC
| | |
| --- | --- |
| Ms. Winnie Lee, Director, Administration & Projects of QHMS accepts the People Site Certificate | Hong Kong, China, 11 July 2006 – Quality HealthCare Medical Services Ltd (Prince's Building) has been awarded the People Site Certification from APCSC (Asia Pacific Customer Service Consortium), in recognition of QHMS ongoing commitment in providing innovative and world-class service and elevating customer service quality in Hong Kong. |
Press Release: S.W.I.F.T. SCRL RECEIVES PEOPLE SITE CERTIFICATION AWARD FROM APCSC
| | |
| --- | --- |
| Mr. Oliver Man, Manager of SWIFT accepts the People Site Certificate | Hong Kong, China, 11 July 2006 – S.W.I.F.T. scrl (Society for Worldwide Interbank Financial Telecommunication) has been awarded the People Site Certification from APCSC (Asia Pacific Customer Service Consortium), in recognition of S.W.I.F.T. scrl's ongoing commitment in providing innovative and world-class service and elevating customer service quality in Hong Kong. |
Press Release: APCSC Presents People Site Certification to LEXXUS INTERNATIONAL
| | |
| --- | --- |
| Mr. Benjamin Tsai, Vice President of Lexxus International accepts the People Site Certificate | Hong Kong, China, 13 January 2006 – Lexxus International has been awarded the "People Site Certification" from APCSC (Asia Pacific's Customer Service Consortium), in recognition of Lexxus' high-standard, efficient and personalized service provided to its distributor. |
Press Release: APCSC Presents CRM Benchmarking
Outstanding Performance Companies with the Region's
"Best-in-Class" Recognition
| | |
| --- | --- |
| During the BIC Luncheon at the APCSC Summit on December 7 2005, APCSC presented various companies with a Best in Class (BIC) recognition for performing well in a particular area of the CRM & Call Center Benchmarking. | Hong Kong, China – December 7, 2005 -- The Asia Pacific Customer Service Consortium (APCSC) presents the Best-in-Class (BIC) recognition to the companies who have performed well in the Regional CRM Benchmarking (The Benchmarking) program, which is organized by APCSC annually. |
Press Release: APCSC Presents People Site Certification to Bayer MaterialScience Limited
| | |
| --- | --- |
| Berthold Alfres, Director of Customer Service of Bayer MaterialScience Limited accepts the People Site Certificate | Hong Kong, China, 29 September 2005 – Bayer MaterialScience Limited (BMSL) has been awarded the People Site Certification from APCSC (Asia Pacific Customer Service Consortium), in recognition of BMSL's ongoing commitment in providing innovative and world-class service and elevating customer service quality in Hong Kong. |
Press Release: APCSC Presents People Site Certification to
Quality HealthCare Medical Services Limited
| | |
| --- | --- |
| Dr. Lincoln Chee, Managing Director of QHMS accepts the People Site Certificate | Hong Kong, China, 26 September 2005 – Quality HealthCare Medical Services Limited (QHMS) has been awarded the People Site Certification from APCSC (Asia Pacific Customer Service Consortium), in recognition of QHMS' ongoing commitment in Continuous Professional Development and Accreditation providing international standards of medical treatment and care, and the "patient first" philosophy in Hong Kong. |
Press Release: APCSC Presents
People Site Certification to Octopus Cards Limited
| | |
| --- | --- |
| Ms. Daisy Lam, Operation Director of Octopus Cards Limited accepts the People Site Certificate | Hong Kong, China, 29 July 2005 – Octopus Cards Limited has been awarded the People Site Certification from APCSC (Asia Pacific's Customer Service Consortium), in recognition of Octopus' ongoing commitment in providing innovative and world-class service and elevating customer service quality in Hong Kong. |
Press Release: APCSC Presents
People Site Certification to Exel (Hong Kong) Limited
| | |
| --- | --- |
| Mr. Victor Mok, Managing Director, East Asia, Exel accepts the People Site Certificate | SINGAPORE, April 2005 – Exel has recently received a People Site Certification award from APCSC in recognition of Exel Hong Kong's ongoing commitment in providing world-class service and elevating customer service quality in the region. |
Press Release: APCSC Presents
People Site Certification to Fuji Xerox (Hong Kong)
"We all know how important it is to provide World-Class service to our customers. There are many businesses in Hong Kong that depend on us when there is a problem or if there are any new enquires regarding our products and services. I am very proud of our staff; we all work very hard to ensure our customers' expectations are met and we are especially pleased to receive the People Site Certification".
Mr. Ramagopal Rao
Managing Director of Fuji Xerox Hong Kong
Mr. Ramagopal Rao, Managing Director of Fuji Xerox

Hong Kong accepts the People Site Certificate

Staff at the Customer Attention Center receive their

Certified Call Center Professional Certificates.
HONG KONG, CHINA – February 27, 2004 – APCSC officially presents the Customer Attention Center of Fuji Xerox Hong Kong with a People Site Certification as recognition of Fuji Xerox's on-going commitment in providing World-Class Customer Service.
Press Release: APCSC Presents
People Site Certification to Dao Heng Insurance Co. Ltd.
| | |
| --- | --- |
| Mr. Harry Wong, General Manager of Dao Heng Insurance Co. Ltd. accepts the People Site Certificate | HONG KONG, CHINA – March 9, 2004 – APCSC officially presents Dao Heng Insurance Co., Limited with the People Site Certification in recognition of their on-going commitment in providing World-Class Customer Service. |