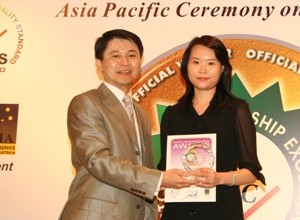 WINNIE HUNG LEUNG LEUNG, NEW WORLD TELECOMMUNICATIONS LIMITED - Customer Service Team Leader of the Year 2005 (Contact Center)

PACKY YEUNG SUI PIK, PRICERITE STORES LIMITED - Customer Service Manager of the Year 2005 (Service Center)
---
2005 Customer Relationship Excellence Winner Statement:
This has been the fourth year that Dao Heng Insurance won the CRE Awards and we are honoured to receive "Consumer Relationship Marketing Service of the Year 2005". Insurance industry has always been in keen competition, and through delivering excellent service, we develop long term relationship with our clients. This enables us to increase our market share. Participating in the CRE Awards offers us not just recognition but its judging criteria also provide an opportunity to benchmark our performance and arouse our awareness for ongoing improvement.
Ms. Macy Lim, Senior Manager Personal Insurance Dao Heng Insurance Co., Ltd.